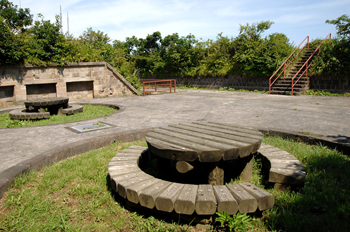 Mount Hakodate, a tourist spot known for its dazzling night views, was also once a fortification zone from the middle of the Meiji Period (1868-1912) to the end of World War II. First constructed as Tsugaru Fort in 1940 to defend the Port of Hakodate, the fort was also given the mission to defend the Tsugaru Straits. Today, remains of stone foundations and brick buildings can be found preserved largely intact throughout the mountain, while there also remnants of artillery positions and rock pillars in the surrounding area as well.
◆Basic Information
---
●Address
Hakodateyama, Hakodate-shi
●Access
30 minutes by car from JR Hakodate Station. Traffic restrictions in effect for the Mount Hakodate access road from 5pm to 10pm during summer months. Access road closed from the beginning of November to the middle of April.


◆location-related information
---
●Authorized Filming Dates & Times
No restrictions
●Contact Office
Parks and Greenery Section, Hakodate City Government
+81-138-21-3431